..
Pontius Pilate, year 30 CE (GBC 649 - TJC 333) - Varieties only -
VI. The "LIS" issues
...
THE 3 BEST H649 "LIV" SPECIMENS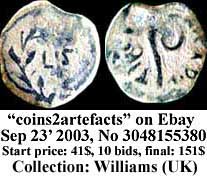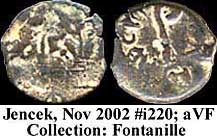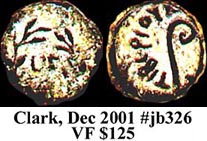 ...
Please visit our sponsors:
...

....
.The H649 varieties are a vast subject! Click on the links below to reach the category which you would like:
H649 Barbaric dies:
H649 Regular dies:
Varieties on inscription Varieties on lituus Rare date varieties Common date varieties The LIV issues Strike varieties
.

.H649 Reverse dies dated LIV listed: 4
.
6. THE H649 ISSUES DATED LIV
.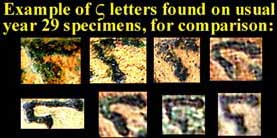 The following specimens are probably the first Pilate coins ever listed as bearing the lituus and the wreath and having undoubtely been struck in year 29. As shown on the comparison pictures, the last letter of the date is definitely a "V" (stigma) like on the simpulum coin struck in year 29. This letter is far from the form of "S" or retrograde "Z" which are only "LIZ" (year 30 C.E.) variants. On November 18' 2002, I asked to David Hendin his opinion about the "R2-LIV" specimen which I just bought. He replied: "I think it is a good possibility that this is year 29" (See also at the bottom of that page)
.
6.1 Die R1-LIV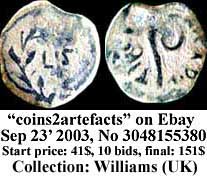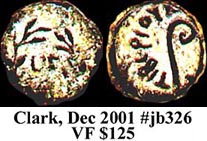 6.2 Die R2-LIV

.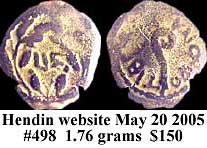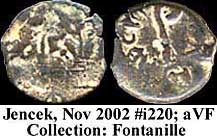 6.3 Die R3-LIV Very small date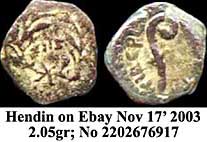 6.4 Die R4-LIV


The LIV / LIZ (retrograde "Z") / LIS varieties
The LIV, LIZ (retrograde "Z") & LIS date varieties can be very similar, but their origin are various:
1. LIV, the subject of that page, is shown on extremely rare and poorly struck specimens bearing the lituus on obverse and the wreath on reverse (only 5 specimens listed!). Like the H648 coins, those specimens were struck in 29 C.E. It can be considered as a limited (trial?) pre-coinage having been re-issued one then two years later (30 & 31 C.E.) for a much larger diffusion.
2. LIZ (with retrograde "Z") is the most common variety on Pontius Pilate's coins, probably engraved by an unskilled enough engraver(s). A bit like I am in English.
3. LIS can be considered as a "variety of the variety" LIZ (with retrograde "Z").
I would suggest to call this "new" coin of Pontius Pilate: H648-B (listed as such in the statistics page)