..
Yehud with Ptolemy I/Berenike on obv. & Ptolemy II/Arsinoe II on rev. (TJC 35)
..
1 specimen listed
..
Please visit our sponsor:

...

...
TJC 35 Obverse & reverse dies
.
Dies O1 & R1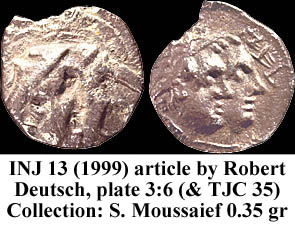 .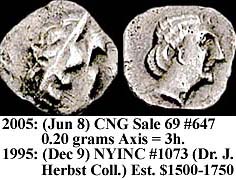 In my opinion, the portraits on the obverse of TJC 35 (above) have been cut by the same person who cut the dies of the H439 specimen at left. The style and design is very similar. However, the reverse of TJC 35 (above), which shows a very different style, might have been cut by another engraver.
..
.
Enlargement of the TJC 35 reverse:
.